Inlays & Onlays in Boca Raton, FL
Discover the benefits of dental inlays and onlays. Learn about the procedure, aftercare, and why it's a great choice for dental restoration.
Beyond Fillings: A Guide to Inlays & Onlays in Boca Raton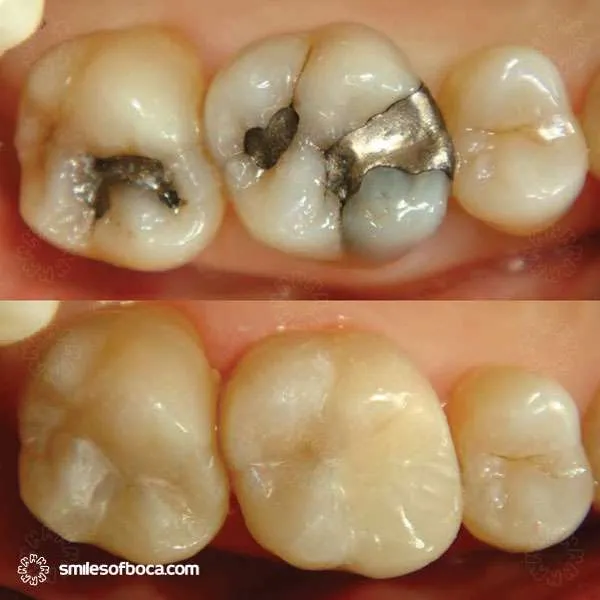 What are dental inlays and onlays?
Dental inlays and onlays are an alternative to traditional fillings and crowns. They're used to restore damaged or decayed teeth, and they can also be used for cosmetic purposes. Inlays and onlays can be made from metal, porcelain or composite resin and are custom-made to fit your tooth perfectly.
Inlays are used when the cavity or damage is within the cusps (the pointy parts) of the tooth. They're essentially a "filling" that's made outside of the mouth and then placed inside the tooth.
Onlays, on the other hand, are used when the damage extends beyond the cusps, but the tooth doesn't require a full crown.
Benefits of Dental Inlays and Onlays
Dental inlays and onlays have many benefits, including:
– Conservative approach: Inlays and onlays allow your dentist to preserve as much of your natural tooth as possible, unlike traditional crowns, which require more of the tooth to be removed.
– Durability: Inlays and onlays are typically made from strong and durable materials like porcelain, ceramic, or composite resin. These materials can withstand biting forces and are less prone to wear and tear compared to traditional fillings.
– Aesthetics: Inlays and onlays are custom-made to match your natural tooth color, making them virtually invisible.
– Long-lasting: With proper care, dental inlays and onlays can last longer than traditional fillings.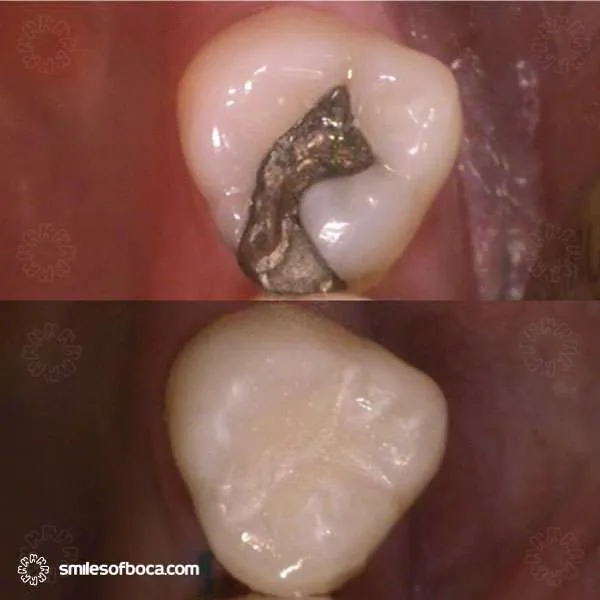 Step-by-Step: The Process of Getting Dental Inlays and Onlays
Getting dental inlays and onlays involves a straightforward process that can help restore damaged or decayed teeth. The procedure typically only takes two appointments. In some cases, inlays or onlays made with CAD/CAM (Computer-Aided Design/Computer-Aided Manufacturing) technology can be completed in a single visit.
The process begins with a thorough examination by a dental professional. They will assess the condition of your teeth and determine if dental inlays or onlays are suitable for your specific needs. X-rays or other diagnostic tools may be used to evaluate the extent of the damage or decay. The dentist will discuss the treatment options with you and develop a personalized treatment plan.
This involves removing any decayed or damaged portions of the tooth, creating space for the restoration. The tooth will be shaped and cleaned to ensure a proper fit. Then, an intraoral scan of the tooth is taken using 3D digital scanning technology. This scan serves as a digital mold for the design milling of the custom-made inlay or onlay from a single block of ceramic or hybrid resin. In the meantime, a temporary restoration will be placed on the tooth to protect it.
Once the final restoration is ready, which can take a couple of weeks, you will return to the dental office for its placement. During this visit, your dentist will remove the temporary restoration and carefully bond the custom-made inlay or onlay permanently to your tooth, ensuring a proper fit and alignment. They will check the bite and make any necessary adjustments to ensure comfort and functionality.
The exact timeframe for the process may vary depending on individual circumstances, such as the complexity of the case, the number of teeth involved, the materials used and the dental laboratory's turnaround time. Your dentist will provide you with a more accurate timeline and answer any questions you may have throughout each step of the process.
Choosing the right material: aesthetic vs. metal inlays and onlays
When considering inlays and onlays as dental restorations, there are different materials to choose from, including ceramic, composite, gold and other metal options.
Ceramic, composite and hybrid inlays and onlays offer the advantage of excellent aesthetic appeal, as they can be custom-made to match the color and appearance of natural teeth seamlessly. They are also known for their biocompatibility and durability, making them a popular choice.
On the other hand, gold or metal inlays and onlays have their unique benefits. They are exceptionally strong, long-lasting, and offer excellent marginal integrity. While they may not blend as naturally with the surrounding teeth, they are highly resistant to wear and are particularly well-suited for posterior teeth that endure substantial biting forces.
Ultimately, the choice between ceramic and gold/metal inlays and onlays depends on factors such as aesthetic preferences, functional requirements, and the dentist's recommendation, ensuring the most suitable restoration for each individual's needs.
Factors Affecting the Cost of Inlays and Onlays in Boca Raton, FL
When it comes to the cost of inlays and onlays in Boca Raton, FL, it can vary depending on several factors. These factors may include the complexity of the restoration, the materials used, the dentist's expertise, and the location of the dental practice. Generally, inlays and onlays tend to be more expensive than traditional fillings due to their custom fabrication and durable materials.
While it is difficult to provide an exact cost, it's advisable to consult with a dentist in Boca Raton for a personalized evaluation and cost estimate. They will assess your dental needs, discuss the treatment options, and provide you with a breakdown of the associated costs. Additionally, it is worth noting that dental insurance coverage may vary, and it is recommended to check with your dental benefits provider to understand the extent of your insurance coverage for inlays and onlays.
Inlays and Onlays: The Perfect Blend of Strength and Aesthetics
Durable and long-lasting restoration option
Natural and seamless aesthetics
Preservation of healthy tooth structure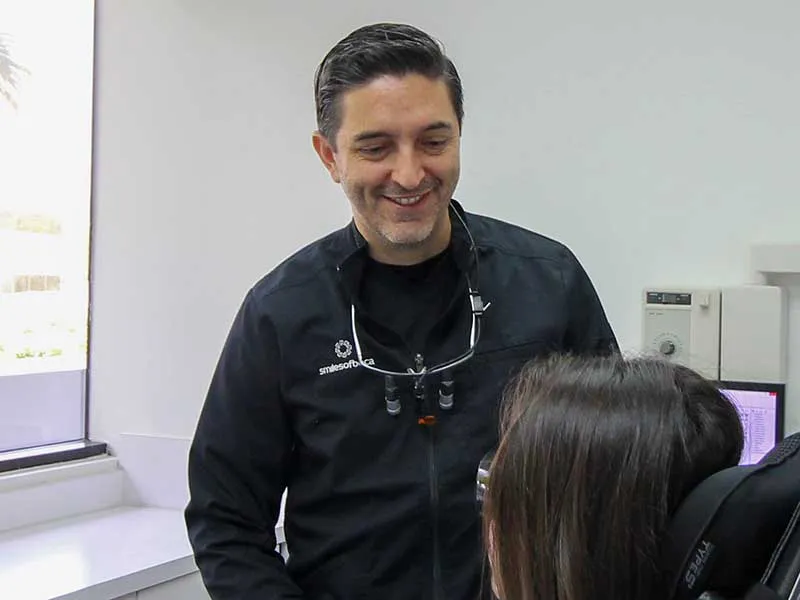 Why Choose Smiles of Boca for Inlays and Onlays?
Patients consistently choose Smiles of Boca for their inlays and onlays in Boca Raton because of our unwavering commitment to excellence in dental care. With a team of highly skilled professionals, we provide top-notch expertise in performing inlays and onlays. Our personalized approach ensures that each restoration is tailored to the unique needs and preferences of our patients, resulting in natural and seamless aesthetics. By staying at the forefront of dental technology, we deliver efficient and effective treatments, while prioritizing patient comfort throughout the entire experience. Additionally, our comprehensive dental care approach allows us to address any additional oral health needs, making Smiles of Boca the trusted choice for inlays and onlays in Boca Raton.
What our patients are saying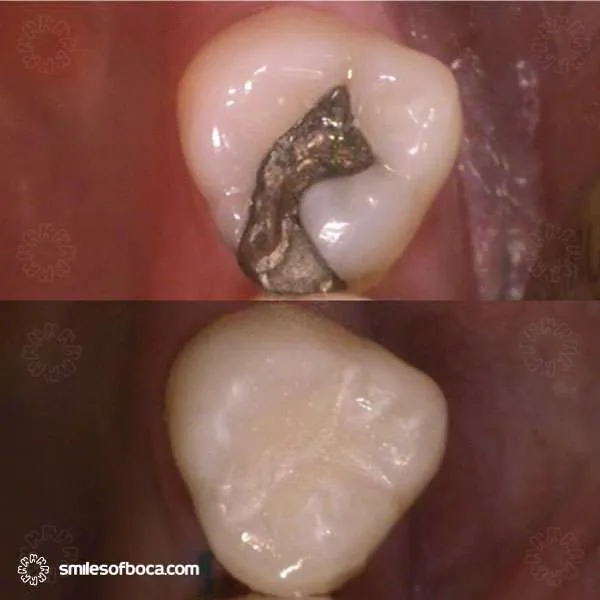 Before and After Inlays & Onlays
Transform Your Smile with Inlays and Onlays
Dental inlays and onlays are an excellent choice for restoring damaged or decayed teeth. They're durable, long-lasting, and virtually invisible. At Smiles of Boca, we specialize in dental restorations, including inlays and onlays. Contact us today to schedule a consultation and learn more about how we can enhance your smile.
Frequently Asked Questions about Inlays and Onlays