Join us for a special Invisalign® event!
June 20 – 23, 2022
For a limited time only, receive $1,000 OFF
Transform your smile with Invisalign® clear aligners
We will be providing complimentary consultations to answer your questions about Invisalign treatment. Patients will receive a scan with our new iTero® digital impression scanner. If you have always wanted to have straighter teeth and a healthy, beautiful looking smile but you don't see yourself wearing braces, then Invisalign clear aligners orthodontic treatment for adults is for you!
Invisalign® Clear aligners are a revolutionary treatment alternative to braces
Invisalign® clear aligners are made of SmartTrack® clear material, which makes them nearly invisible. This is very desirable for adults who prefer a more discreet form of orthodontic treatment, as it gives you more confidence in social and professional situations when compared to traditional metal brackets and wires.
Invisalign clear aligners are great option for correcting crowded or crooked teeth and gaps between the teeth, all of which are very common problems in adults. It can also correct open or cross bites, amng other orthodonti conditions.
How does it work?
Clear aligners work the same way as traditional braces. Instead of brackes or wires, the SmartTrack clear tray material applies a gente but conntrolled force to the teeth, nudging them into position. Invisalign clear aligners for adults is the most simple, easiest way to achieve the smile you've always wanted. The process is simple:
(Click here for a complimentary consultation)
This is when we evaluate if clear aligners are right for you.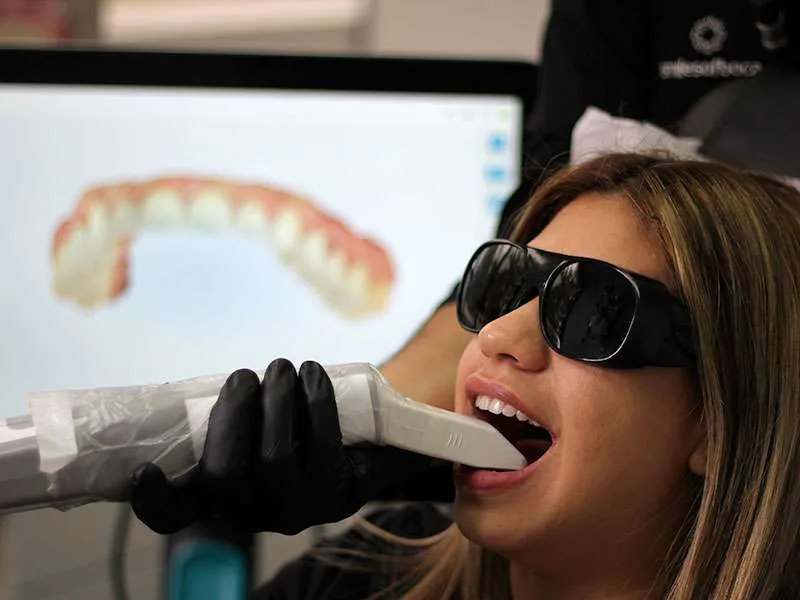 Once you've decided that Invisalign is for you, we take a few photos of your teeth, your smile, as well as a digital scan or impression mold of your teeth. We will use these to plan your individualied Invisalign treatment
[Talk about3d, computers, smile design, etc)
Once the records have been taken, they are sent to a secialized lab where your trays will be manufactured.
After we have received your Invisalign clear aligners from the lab, we will deliver your first set of trays. You will start wearign them for at least 20 hours/day anywhere from 7-10 days.
You should only remove them when you brush and floss your teeth, and at meal times.
After you've completed the prescribed amount of days with your frst set of trays, is time to progress on to the next set to continue moving the teeth, and so on, until the desired result is achieved Although clear aligners are extremely comfortable and convenient, they may take some getting used to, but patients adaprt fairly quickly to them. Inviaign treatment time generally ranges between 6 to 24 months, depending on the severity of each case. At the completion of invisalign treatment, you will be fitted with retainers, same as if you had completed orthodontic treatment with traditional metal braces. Invisalign can treat a wide range of conditions, from crowding, to gps, crooked teeth, misaligned bite, open or crossed bites. In some cases, traditional braces may still be the best way to go. It depends on the specifics of every cas, and the best way to know is by having a complimnetary cnsulttion As it's tru for any treatment, maintaining excellent oral hygiene is important. To find out if Invisalign clear aligners are right for you, schedule an appointment online