What is invisalign ?
Invisalign treatment is known by many people as invisible orthodontics. It is a treatment that allows to align the teeth and improve the smile. How does it do it?
Invisalign works with removable and transparent aligners or splints, these aligners thanks to their transparency are practically invisible.
To know if you are suitable for it, you must be seen by an orthodontist, it cannot be done by a general dentist. At Boca Raton Invisalign you will be attended by the best professionals specializing in orthodontic treatments.
This orthodontic treatment is practically invisible to others around you, so if you want to have perfect teeth but you don't want to be a victim of comments from your surroundings, with Invisalign you won't have to worry about it.
How is Invisalign treatment performed?
Using state-of-the-art equipment such as the Tero Element scanner, a 3D scan is performed, this only takes 5 minutes to be completed.
This scan gives us a 3-dimensional digital design of the teeth with which we create the detailed treatment for each person.
You will be able to see the result that you will obtain at the end of your Invisalign treatment and only when the patient is sure of approving this result is the data for the design of the aligners sent.
With this you can already determine how many lots of aligners you will need, the cost of your treatment and the approximate time that you will have to use the aligners.
Once you are already using the aligners, you should attend a consultation with your orthodontist in Boca Raton Invisalign every two weeks to confirm the progress in your treatment.
If the progress in your treatment is as expected, you change to the next batch of aligners, this process must be repeated until the aligners of your treatment are exhausted.
The aligners correct your teeth gradually, which is why they must be changed every two weeks. They move your teeth until they reach the correct position.
The end of your treatment will be confirmed by the Invisalign orthodontist when he is sure that the results originally proposed have been obtained.
If you comply with all your appointments and controls, you can be sure that the time of your treatment will be the one proposed at the beginning.
The aligners should be worn at least 22 hours a day, although at first, they may be a little uncomfortable, after two or three days you will be totally used to them.
What should I do at the end of my Invisalign treatment?
The last step after finishing your Invisalign treatment is the use of retainers at bedtime, the teeth are in constant movement, especially after orthodontics.
Using your retainers during your sleeping hours will allow you to maintain the teeth that you managed to achieve with the treatment carried out in Boca Raton Invisalign.
If you would like to know more about, what is Invisalign treatment, you can request a complimentary consultation. we will be happy to assist you.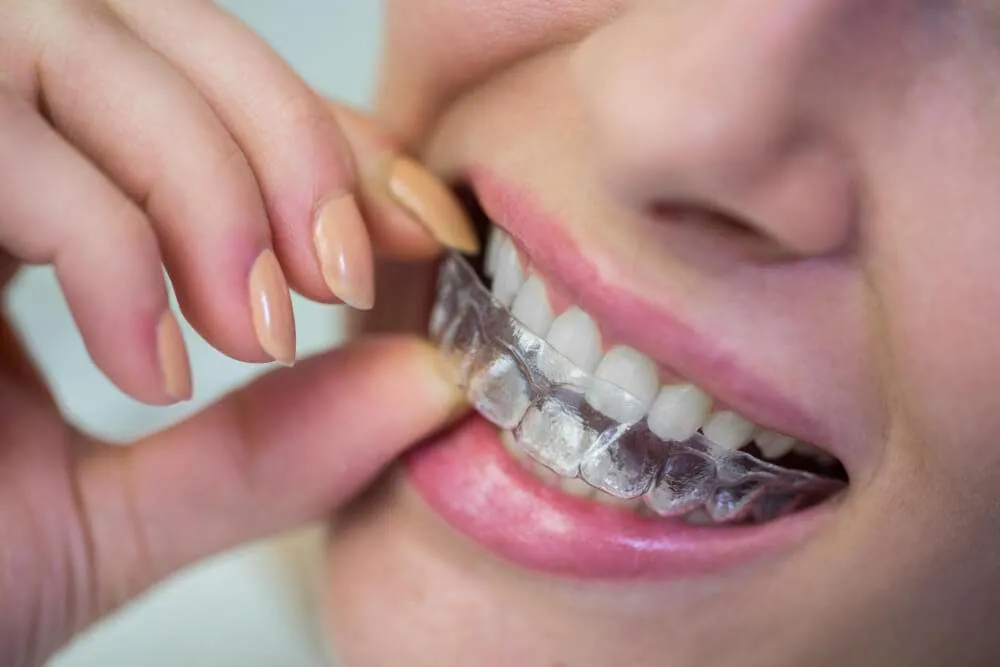 How much does Invisalign cost?
The cost of your orthodontic treatment varies according to the initial state of your teeth. After carrying out the corresponding studies and determining how many aligners you will need, we can give you a budget for your Invisalign treatment.
The approximate costs vary in ranges from $1,500 for the simplest cases, and around $8,000 for longer and more complex treatments.
How long does invisalign take?
The number of aligners is defined at the beginning of the treatment, the study carried out by the orthodontist allows us to define from the beginning how many will be used and the stipulated time to obtain the perfect results.
Invisalign treatment could last between 6 and 24 months, this depends on two factors, the initial state of your teeth and the consistency you have in the use of your aligners.
Why choose Invisalign treatment
Invisalign is not the only treatment on the market, there are many that seek to match its benefits, but not all are performed by orthodontists with the necessary knowledge.
They are generally cheaper brands that offer the same or even better results, the consequences of these poorly performed treatments are always very bad,
These manage to obtain bites with an acceptable aesthetic appearance but do not take into account the functionality of the denture and how it should be positioned, causing expenses and subsequent problems.
The aligners used with the Invisalign treatment are completely transparent so it will be very difficult for someone to notice that you are wearing them, you won't have to worry about comments or criticism.
You do not need special brushes or dental floss since you can remove them to carry out your oral hygiene routine and place them again when you finish.
If you or someone close to you has used braces at some point, you know how complicated it is to eat certain foods when you have them. With Invisalign you will be able to remove your aligner and eat your favorite foods without limitations.
If you have an important meeting or conference and you don't want to use them at the time, you can save them and put them back when you go back to your daily routine.
At Boca Raton Invisalign we can carry out the necessary study to design your aligners and assist you throughout the treatment until you obtain your perfect smile.
Text us for a Complimnetary Consultation